Work / University of Northern Iowa
Situation
Connecting top students with a top university requires a media strategy in a class of its own.
The University of Northern Iowa (UNI) faces a lot of competition when it comes to recruiting new students. Every year, UNI competes with public and private universities across the country, as well as dozens of junior and community colleges, to attract a class of students whose skills and interests are as varied as their reasons for attending college. Happy Medium was able to help UNI get its message in front of the right people and attract students from all backgrounds to apply to UNI.
Solution
Our work with UNI began with a comprehensive audit of their media efforts to determine where they had success and where there were gaps in messaging. Our discovery session revealed that UNI put a lot of work into its brand and offered a number of benefits to students that their competition couldn't match. UNI already had the right message. They just needed some help reaching the right audiences.
Our solution revolved around targeting the right people with messages tailored to them. From first-generation college students to out-of-state transfers, we knew that a wide-net approach would not be effective. A tailored approach requires in-depth research, followed by continual campaign optimization to achieve quantifiable results. This is how we made it happen.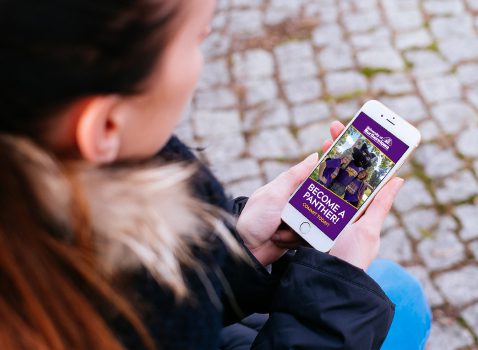 Roll Call
Before any strategy was put into place, we made sure that we were targeting the right people. After identifying our ideal audiences, we hit the books and became students to learn all we could about who we wanted to reach through our media plans. With a complete understanding of our audience and their habits, we were ready to put the pen to paper.
Cover to Cover
Understanding your audience is one thing. Reaching them is another. Our research revealed the diverse media habits of UNI's target audiences, so our media plan had to be just as varied. We left no page unturned in our media playbook when it came to elevating UNI's most important messages to the people who were more likely to take action.
Continued Learning
Laying the groundwork with extensive audience research and sound media strategy is certainly necessary, but no campaign can reach top performance without some adjustments along the way. Happy Medium made sure that any plan put into place had room to grow and adapt as the campaign went on.
Report Cards
Instead of using a report to retroactively determine the success of our plan, we deliver regular reports with key metrics that help us optimize our efforts in real time. Not only does this give UNI a clear picture of how our strategy works, but it also allows us to stay ahead of trends as they occur.
By The Numbers
These numbers represent digital paid media performance from September 2019 to Jan 31, 2020.
7

different platforms

27.5M

impressions

5.3K

conversions
Disciplines
The achievers that found the solution.
Let's chat.
Every great partnership started with a first step. Let's get talking.
next up