Situation
After a tough year for local business, Happy Medium sought a way to put our expertise to work in the community.
Nearly all businesses were affected by the COVID-19 pandemic, but small, local businesses were hit the hardest. As a small business ourselves, Happy Medium wanted to find a way that our digital expertise could lend a hand to local businesses struggling through the pandemic. We focused our sites on local bars and restaurants as an opportunity to do some good for Des Moines.
With in-person service restricted by the pandemic, restaurants and bars needed carry-out and delivery orders to stay afloat. This meant relying on food delivery apps, such as Doordash and Postmates to attract business. While convenient for customers, these apps are hard on businesses, charging businesses a percentage of each sale through the app. We wanted to create a solution that provides the same convenience as a food delivery app while helping businesses avoid enormous fees by encouraging customers to order direct from them instead of through apps.
Solution
In lieu of a holiday party in 2020, Happy Medium organized the company's first-ever full-day hackathon. The HM team was tasked with creating a website that connected local bars and restaurants with hungry users looking to get delivery or carry-out. The team was given the deadline of 5 pm the same day to concept, design, and develop the site.
The result of the hackathon was Eat, Drink, Swipe– a site the allows users to browse local restaurants and bars or pick a "Surprise Me" option if they are feeling indecisive. The site lists nearly 250 local businesses for users to discover and even allows them to submit a new restaurant or bar to the directory if the business is not yet listed. Here's how we made it happen.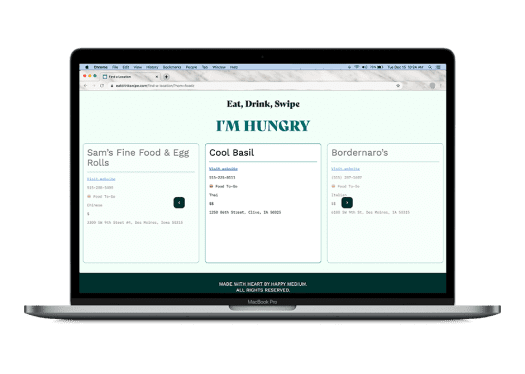 Order Up
Before we started crafting a solution, we needed to identify the problem first. Food delivery apps lessen the mental load for users by giving them an aggregated list of food options. Eat, Drink, Swipe needed to offer the same value, while also providing information that made it easy for users to gauge their interest in a business, including the type of cuisine, their hours, price, and whether they offered carry-out, delivery, or both.
Prep Work
In order to feature all the restaurants and bars that Des Moines has to offer in a simple to use format, the design and user experience team decided on a layout where users could swipe between offerings (hence the name "Eat, Drink, Swipe.") Depending on what option a user chose from the homepage, the site would randomly select a business for them to examine. They could choose to either visit the business' website or swipe to see another option. This makes it easy for users to discover something new in Des Moines that they have not tried before.
Let it Sizzle
Happy Medium developed a full launch PR and social media strategy to spread the word about our site. We started by partnering with local influencers who shared the site with their networks using an Instagram story template that we created to be customized and shared. We also sent a press release to local news organizations, helping Eat, Drink, Swipe get featured on cable news broadcasts and in other news outlets.
We also sent a press release to local news organizations, helping Eat, Drink, Swipe get featured in local news outlets, such as the Des Moines Business Record, DSM Magazine, and two cable stations. Our launch plan helped us put Eat, Drink, Swipe in front of as many people as possible, all without spending a dime on promotion or placement.
By The Numbers
Helping local businesses was our biggest goal, but these numbers are pretty good, too.
19K

total lifetime views

3.1K

unique users in the first three days

28K

organic social media impressions from launch announcements
Disciplines
Copy
Design
Dev
Social
UX
The achievers that found the solution.
Let's chat.
Every great partnership started with a first step. Let's get talking.
next up