Work / Goodwill of Central Iowa
Situation
Finding an inspiring story is 90% of the marketing battle. Goodwill of Central Iowa had a big head start.
Sometimes that last 10% is the hardest part. Goodwill of Central Iowa (GCI) came to Happy Medium knowing their website wasn't performing as well as it could. Content on the site felt siloed—it wasn't easy for visitors or employees to explore. There was also a big opportunity to use design to communicate GCI's work, more than the utilitarian site was doing.
Solution
We helped GCI employ a more holistic strategy that made content cohesive and interwoven, encouraging visitors to explore. We also made sure it was a beneficial tool for sharing and accessing information with employees or business partners. And as an organization that priorities sustainability, we made sure the site was a reliable digital resource, replacing the need to print out materials. Finally, we saw a chance to use written and visual storytelling to bring focus to GCI's mission and its impact on Des Moines area communities.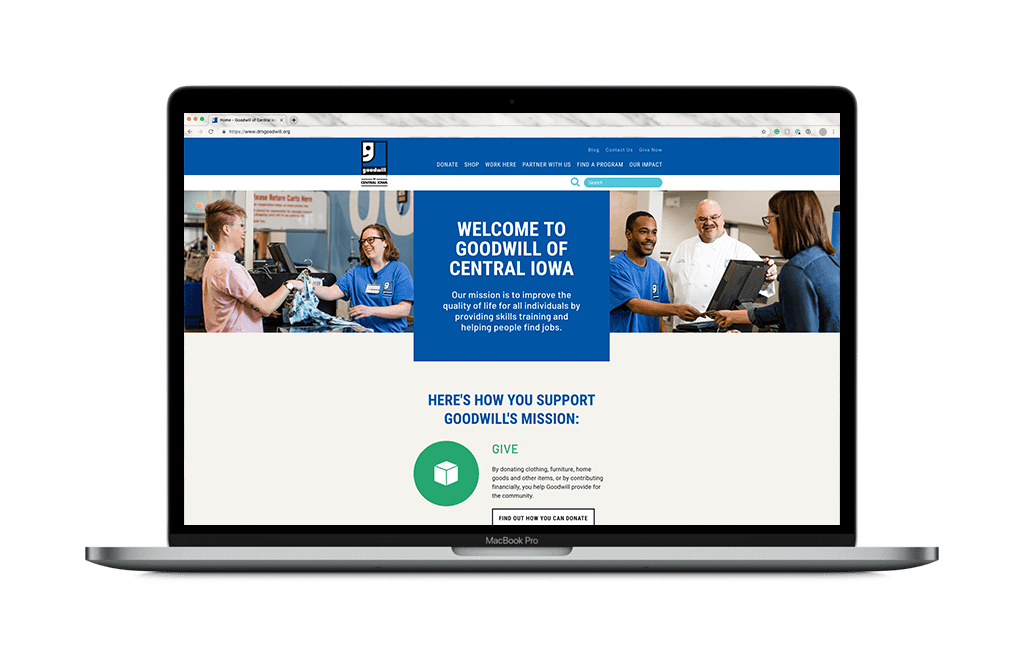 UX
First, we reorganized the site architecture and main navigation to put the most important actions in front of users—'donate' and 'shop' being the top two. We also made sure to add in a section for impact; a dedicated space for GCI to demonstrate how it positively impacts the community. This section shows clearly and simply the numbers behind the impact—connecting the number of donations and customers to the number of jobs those produced, and the number of people served.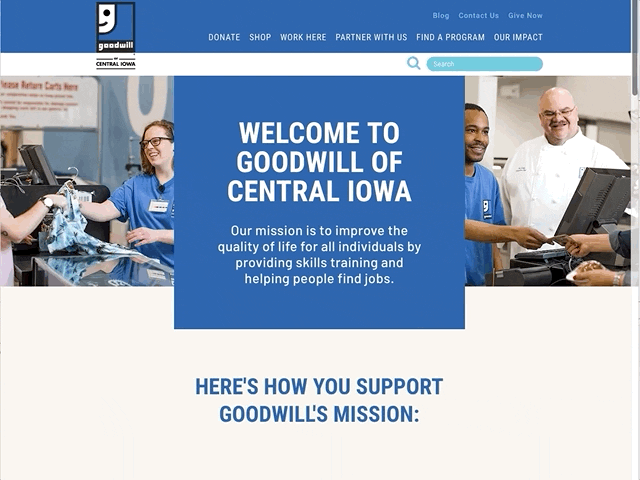 Design & Creative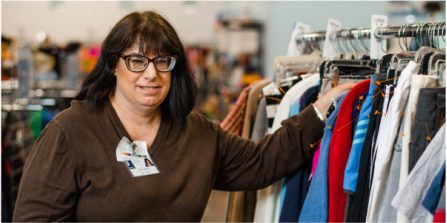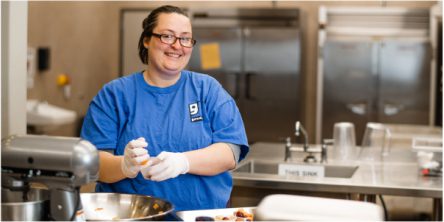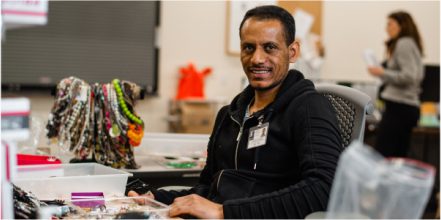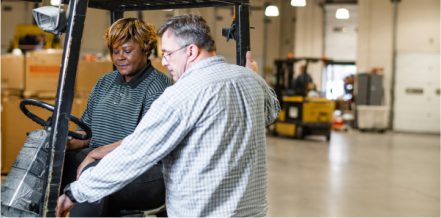 By The Numbers
This project certainly helped shine a light on some impressive work that might have been hidden away for years.
61%

Increase in sessions after launch

57%

Increase in new users

14K

Visits to the donation page
Disciplines
The achievers that found the solution.
Results
In the first year after launch, GCI had more than 245,000 visitors to their site. That's an increase of more than 60% compared to the previous year. And they were pulling in more new users than before—with a 57% increase in visits compared to the year before.
Further, all the elements of the site were working together to push people to GCIs most important needs. Just over 14,000 people made their way to the donation page in that same year.
Through thoughtful information architecture, instructive design and clear, empathetic messaging, Happy Medium was able to create a digital experience that furthers Goodwill's mission to improve the quality of life of Iowans.
Let's chat.
Every great partnership started with a first step. Let's get talking.
next up