Situation
Delivering a consistent message for a global ingredient company across eight markets in 90 countries about its impact on more than 3.8 billion people is challenging enough– managing a global social audience that comes with it is an enormous task.
Kemin Industries has been working diligently to improve the lives of humans, animals and pets with its science-backed products and solutions since 1961. Today, more than six decades later, it serves customers in the human and animal health and nutrition, pet food, aquaculture nutraceutical, food technologies, crop technologies and textile industries. The company has worked to build its presence in these markets around the globe and uses science to transform the quality of life around the world. When it came to interacting with these markets and customers on social media and showcasing its global impact, the Kemin marketing team knew there was an opportunity to expand its brand footprint. In the digital age, technology is constantly evolving, so to create a global strategy for constantly evolving social media platforms, Kemin turned to Happy Medium.
Solution
The Kemin team had some presence on social media, but they were ready for a more deliberate and impactful effort to grow their brand on multiple platforms. Happy Medium helped them create a flexible strategy to meet their goals of optimizing and expanding the company's social media presence, increasing brand awareness, and supporting global digital marketing initiatives.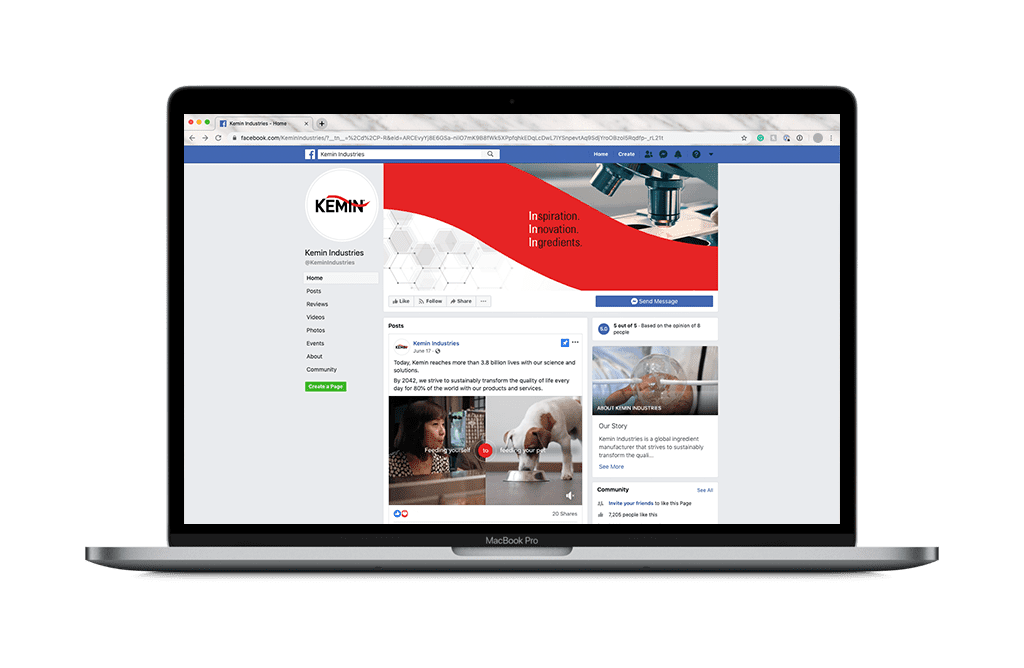 Creating a Strategy
Some of Kemin's regional marketing teams were already utilizing social media, but the corporate marketing team wanted to create a more concerted and coordinated program for the most popular platforms. Our initial planning work focused on identifying the most appropriate channels and audiences, and honing in on the content that would perform. We helped Kemin figure out how to use their content to engage with scientists, industry professionals and community audiences they wanted to reach.
Competitive Analysis
Knowing there are other major competitors on these same platforms, we helped the Kemin team perform an analysis of its accounts to see what was and was not working, and to dissect similar companies' strategies for their shared audiences. We created a tailored approach that maintained Kemin's brand voice while adopting best practices for their industries.
Thinking Globally
While globally headquartered in the U.S., Kemin has customers in 120 countries, more than 15 manufacturing and office facilities worldwide and customers around the globe. Part of our strategy for Kemin included how to best reach all these audiences. Little things– like posting at the correct local time, even when it's 1:00 AM in the U.S.– help boost engagement and demonstrate authenticity.
Executive Consulting
To maintain and grow a brand on a global scale, companies need to stay on the leading edge of thought leadership. Happy Medium was able to offer individual consulting to Kemin leadership to help them communicate their ideas in channel-appropriate ways while staying true to the Kemin brand.
Communicating a Vision
With all of the social media elements in place, we were ready to help Kemin with a major undertaking: execute marketing and communications on social media for Kemin's global brand and vision launch in June 2019. In close coordination with Kemin's other teams, we helped prepare toolkits that could be used across multiple social channels, and by each individual business unit. We also helped ensure a seamless, single rollover from the old brand to the new in coordination with Kemin's other digital assets.
By The Numbers
As a science-based company, Kemin is a client that loves to dive into the numbers. So we were happy to share 6-month comparisons of their three main channels—Facebook, LinkedIn, and Twitter—from before and after Happy Medium took over.
158%

increase in engagement

109%

increase in messages sent

34%

increase in followers
Disciplines
The achievers that found the solution.
Results
Across all three platforms, the average increase in engagement was an astounding 158% with a corresponding 34% increase in new followers. Messages from fans and followers more than doubled as well, revealing a level of engagement deeper than likes and shares.
The partnership between Kemin and Happy Medium has been a potent combination of ambition, strategy and execution. We're looking forward to helping Kemin continue to hone in on the right formula for continued future success.
Let's chat.
Every great partnership started with a first step. Let's get talking.
next up